UK Civic Pride
This website provides those Key Facts about UK Towns and Cities which help to instill civic pride amongst their citizens. These include details of towns with the civic honours of city status and/or a lord mayoralty or those which have a university or a cathedral. Other factors which boost civic pride include having a good football team or winning the national Britain in Bloom competition, and this website will show which towns and cities have been the most successful. Finally being connected with famous people or having a sizeable population can also contribute to a sense of civic pride, and the latest census population figures for all towns over 100,000 are included.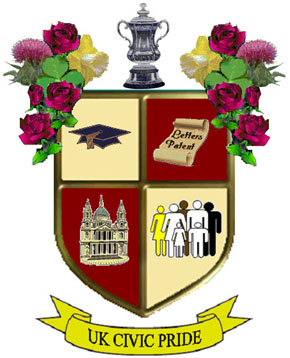 To find information about a specific UK town or city look at the Towns & Cities page. All information has been thoroughly checked to make sure it is authentic, valid and reliable. Check the Reference Sources page for more details. If you would like an organisation listed or wish to advertise on this site please fill in the contact form provided.
If you love your town why not join your Local History and/or Civic Society? These voluntary organisations are involved in projects that help to promote and protect your town or city's history, heritage and buildings. They welcome new members and anyone can join.
Information about all UK Cities can also be quickly accessed below.